Sushi, Godzilla, strahlende Atomkraftwerke und gebrauchte Damenwäsche aus Automaten – skurrile Gerüchte und bizarre Vorurteile gibt es über das Inselreich am Rande des Pazifiks wahrlich genug. Was allerdings die Wenigsten wissen: Die japanische Realität ist von all dem gar nicht weit entfernt.
Wussten Sie zum Beispiel, dass man in Japan rund ein Drittel eines Geschenkes in irgendeiner Form wieder zurückgeben soll? Oder dass es nichts Ahnungsloseres gibt als einen Taxifahrer in Tokyo? Dass Japaner ihre eigenen Orts- und Personennamen oftmals nicht lesen können? Und dass es kein elektrisches Gerät gibt, dem die Japaner mehr vertrauen als dem Fax?
In 55 unterhaltsamen, aber auch nachdenklichen Kapiteln klärt dieses Buch auf über das wahre Japan, das sich hinter dem fernöstlichen Schleier verbirgt und sich dem Fremden oft erst nach vielen Jahren erschließt. Trotz aller Exotik werden Leser dabei schnell merken: Japan ist skurril, Japan ist anders, aber auch in Japan kocht man nur mit Wasser – und einem Schuss Sojasoße, understood.
Das Buch erschien am 1. April 2016 beim Verlag Conbook Medien und kostet 9,95 Euro. Erhältlich ist es unter anderem bei Amazon.
---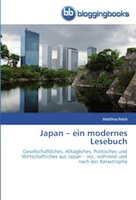 In July 2012 I published the first book under my own name. The book is published by a very small publisher and unfortunately relatively expensive (I had no influence on the pricing). A brief description of the book:
About circulate Japan has always been many reports in the media - especially since the earthquake-tsunami-nuclear disaster of 11. March 2011. This book is a conglomeration of numerous serious conditions such bizarre news from Japan and, written by an emigrant, mainly talking about the Japanese in Japan. For this book were well 100 of almost 700 Blog entries of the "Japan-almanac", consisting since 2006, selected and revised. The last third of the book consists of a chronicle of the events after the earthquake disaster, such as direct and indirect consequences on society and the resonance of the disaster in German and Japanese media. The events at Fukushima in northern Japan and further it had a significant impact on the lives of the author and his family. Apart from issues of society and economy, many articles also deal with the language, inner- and foreign affairs and life as a foreigner in Japan.
The book is available on Amazon, among other – see here. For inquiries from publishers (out of print-on-demand) I'm generally open and the Contact all times.
---
Since 2009 I write for MIDORI – Magazine for koi, Pond- and horticulture. And not about Kois, Ponds or gardens, but columns about this and that in Japan. For a change, so to speak. The magazine is published quarterly and is well-stocked book- and stationery stores in Germany, Austria and Switzerland available. Some columns find their way into the blog – see Example, but most are only available exclusively published in Midori.
More one learns about Midori here.