Politics
Georgia was already mentioned some thousand years ago by ancient Greeks, but at that time the area was called Colchis (which is just a part of present-day Georgia) and Iberia, although this has nothing to do with the Iberian peninsula (i.e. Spain and Portugal). Legend says that Colchis, the area along the Black Sea coast, was the land of the Golden Fleece. Sometimes Georgia itself was a powerful nation, sometimes it was a plaything of neighbouring Ottoman Empire, Persia and, increasingly since the 17/18th century, Russia. Finally the Russian Empire took over. In 1918, the entire Southern Caucasus area declared independence, but already in 1920/21 the proceeding Red Army was putting a stop to sovereignty. At that time, Jugashvili aka Stalin was already active. He came from Georgia and therefore he's still admired in Georgia - there are Stalin pictures everywhere and numerous streets still named after him.
In 1991, Georgia broke with the crumbling Soviet Union. Immediately, heavy street fights broke out in Tbilisi, with the countryside being overrun by marauding paramilitary units. The president was overthrown in a coup. After that, the internationally accredited former Foreign Minister of the Soviet Union Shevardnadze was elected as president of Georgia.
There are three autonomous districts in Georgia - South Ossetia in the middle of North Georgia, Ajaria aka Achara in the Southwest and Abkhazia in the Northwest. The latter opted for a reunion with Russia rather than remaining a part of Georgia. As a result of failed negotiations, a bloody civil war broke out. According to Georgian politicians, Russia provided extensive military aid for Abkhazia.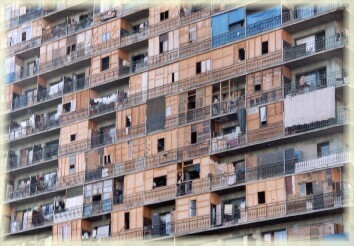 After a terrible war, Abkhazia managed to win the war in autumn 1993. Shevardnadze could consider himself lucky that he was able to flee Sukhumi, the capital of Abkhazia, since he was still in town when it was captured. Almost half of Abkhazia's pre-war population were ethnic Georgians - all in all around a quarter million people. After the defeat, virtually all Georgians were brutally expelled. Even more than 10 years later, hundred thousands of so-called IDP's (internally displaced persons) live in makeshift shelters suffering rather bad living conditions. Due to the war, Abkhazia's population dropped to less than 300,000 people. Be aware that under no circumstances one should make an effort to enter Abkhazia from Georgia or vice versa.
Still the government couldn't take control of the entire country. Parts of South Ossetia, Svaneti and Pankisi Gorge near the border to Chechnya remain unstable. However, things are changing quickly in Georgia. Pankisi Gorge was even bombed by Russian jetfighters, since the gorge seemed to be used by Chechen rebels as a deployment area. The autonomous district of Achara in the Southwest around Batumi is not very stable either. The local governor acted like a dictator and repeatedly pled for independence. However, he was finally driven out the country.
Leaving aside these problems, Georgia seems to recover - economically and politically. In 1995, a new and quite stable currency was introduced. An economic progress cannot be denied, although it's rather limited to Tbilisi and other bigger cities. In 2004, a bloodless revolution swept away the old government. Nevertheless it's highly important to check Georgia's latest news before entering the country.



| | |
| --- | --- |
| | Photo: IDP shelter in the former Hotel Iveria in the heart of Tbilisi: future unknown |
Language
Georgians call their own language Kartuli, which is part of the Kartveli language group. This again is part of the Caucasian language family. Which means that Georgian / Kartuli has absolutely nothing to do with Indo-European languages such as English or Russian or Turk-languages such as Azeri or Turkish. Kartuli has its own script (see the characters right of the flag atop) with 38 characters. It's not a bad idea to get familiar with at least some of the characters, since outside Achara (where Azbuka aka Cyrillic script is quite common) most things are written in Georgian only.
Russian is lingua franca in Georgia. I haven't met a single person that couldn't speak at least a little Russian. In contradiction to some places in Eastern Europe, speaking Russian is nothing to be ashamed of. English is not very widespread.
Nature & Climate
Mountains, mountains and mountains - in the North it's the Greater Caucasus Range, in the South the Likhi Range, spreading all the way East to the Caspian Sea. The main ridge of the Caucasus marks the border to Russia and features some peaks reaching 5,000 m and more. The massive Caucasus Range protects the country from the cold wind from the North, and so temperatures below zero outside the mountains are quite unusual. Additionally, warm and wet air from the Black Sea guarantees subtropical climate in Western Georgia. This makes cultivation of citrus fruit and tea, wine etc. possible. In the Caucasus, subalpine and alpine climate dominate. As in all alpine areas, weather can change quickly and demands appropriate preparation before heading off for climbing or hiking. In the valleys, temperatures in summer can reach 30 degrees Celsius.
Travel information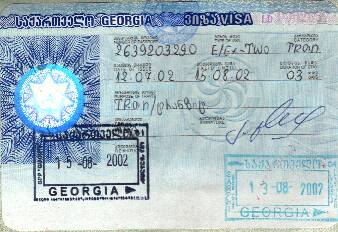 Almost all nationalities need a visa. As far as I know, the visa can be obtained upon arrival at the Int'l airport near Tbilisi but not at other entry points. Therefore it's a good idea to get the visa in advance at local Georgian embassies. Usually, a LOI (letter of invitation) or vouchers are not necessary - all you need is some money, a valid passport, filling out some documents and some pictures. Another good option is to apply for a visa in one of the neighbouring countries, i.e. Armenia, Azerbaijan or Turkey (all crossing points between Russia and Georgia are closed for foreigners!). As with Turkey, there's a Georgian consulate in Trabzon not far from the border. A single entry visa, which is good for two weeks, costs around 60 USD (the fee has to be paid in Turkish Lira). The consulate opens from 10 to 12 and 2 to 4. The visa is issued on the spot so it's very convenient. Note that the consulate doesn't issue any transit or other types of visa. A transit visa is good for three days, the fee at local embassies is around € 29.
It's possible to go to Georgia by plane (quite expensive from Middle or Western European countries!), by boat, bus and train. There are a view border crossing points to Russia, with the main crossing point on the Military Highway between Tbilisi and Vladikavkaz / Mineralnye Vody. Again - this and other crossing points to Russia are closed for foreigners!!! Due to the Abkhazia conflict, there's no more train connection between Russia and Georgia. As with Turkey, there are two crossing points - one is between Akhaltsikhe and Posof (Attention: it doesn't open before 11 a.m. Georgian time!) and the more important one at the coast between Batumi and Sarp (24 h). Be aware that there's a two hours time difference between Georgia and Turkey. Batumi/Sarp is the border of open hands - don't get weak!!! The more travellers pay the bribe, the harder it gets for other travellers to avoid the bribe! For more information, see Day 4. In general, crossing the borders between Turkey and Georgia and Armenia and Georgia is not big business - common sense and a valid visa is all you need.
Georgian currency is called Lari, often abbreviated to GEL. One Lari consists of 100 Tetri (no, the plural form is not Tetris!). The exchange rate remains stable (at least it was stable around 2002) - € 1 = 2 GEL. In 2002, there were only two ATM's in the entire country - both in Tbilisi and both under construction. This probably has already changed. However, at that time it was possible to get cash advance on credit cards. It's possible to change money in all cities in Georgia - preferably US-dollar. It's definitely important to always carry a US-dollar cash reserve!
Accommodation is extremely cheap - private rooms do not cost more than 5 to 10 Euro per night. Outside Tbilisi, hotels are quite cheap, too. The same can be said about food and drinks and transportation. With 50 GEL a day, one can almost live like a king in Georgia. Getting by on as little as 10 USD per day in the countryside is absolutely no problem.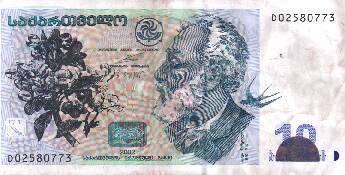 Trains are incredibly slow. It takes more than 10 hrs to cover the 250 km from Batumi to Tbilisi by train. Road conditions are rather poor, especially near the border. Travelers suffering from travel sickness are strongly advised to carry plenty of medicine. In Georgia, some people might even discover for the first time in their life, what exactly travel sickness means. There are many buses connecting all villages and towns - many of them are twenty and more years old Ikarus buses made in Hungary and probably imported from Polish, East German and other communities. A faster way to get around are the so-called marshrutkas - the former Soviet Union states' counterpart of Turkish Dolmuş. Within the city limits, a ride on a marshrutka (this word actually derives from the German word "Marschroute" = route) costs around 50 Tetri to 1 Lari. Marshrutkas are much more expensive than buses, but faster.
As already mentioned above, the complex safety situation in Georgia (esp. near Abkhazia, Chechnya, Svaneti, South Ossetia etc.) and the fact, that foreigners are occasionally kidnapped even in Tbilisi, makes it indispensable to check safety before going to Georgia or traveling around the country.
Generally spoken, it's rather easy to travel to and around Georgia, although there's a always a certain security risk. Westerners are quite a rare view and therefore easy to spot for people with bad intentions. Except for one situation, I felt rather safe. However, I've met people who fell victim to pickpockets in Tbilisi's subway and a female traveler who was raped in Svaneti. Robbers and pickpockets are a problem especially in Tbilisi, so be careful in crowded places and parks with no other people around you. On the other hand, we'd never had the impression of being ripped off by restaurant staff or bus drivers. In contradiction to some other countries like →Belarus travelers are not charged higher prices than locals. Georgioans are extremely hospitable and sometimes even refuse payment (eg in public toilets etc.) But I've only been to Georgia for around 5 days, and although Georgia is comparatively small, 5 days is everything but enough time for this magnificient country. My best advice is to stay longer.
Further information:
top page